Pizzas that must be in your Bucket list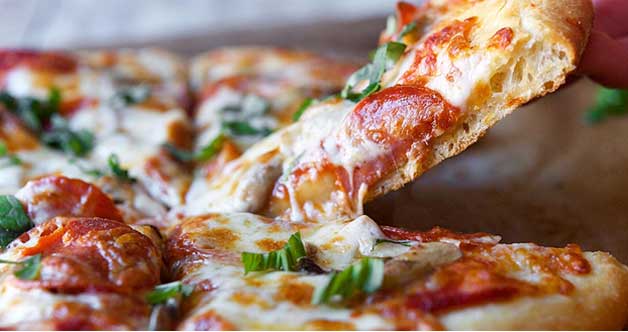 Over the past few years Boston has emerged as a one of the most sought after spots on the map for foodies. With a balance mixed of both opulent as well as budget friendly restaurants within its hood Boston has quite an exciting culinary scene for you to experience. Owing to its rich Italian influence from its neighborhood, Boston has a delectable spread of pizzerias in its repertoire. Enough to give you a hard time to pick one out of the handsome lot! So, we have picked the 3best Boston pizza you must try.
Sicilian Style Pizza from Galleria Umberto
Hailing from the Italian lands of Sicily, the Sicilian pizza is a traditional Italian classic featuring an ultra-thick crust. The unique crust of this pizza, which is cut into squares instead of the usual triangle slices we associate with pizza, has a sponge like texture which is soft and fluffy. This infamous pizzeria in North End of Boston serves this style of pizza up until the dough in their kitchen lasts which can be till as early as 2 in the afternoon. They top up their star crust with a sublime tomato sauce and meaty toppings. Just a couple of slices of their heavenly pizza are enough for a deliciously filling meal.
Carefully Crafted Pizzas from Area Four
This Kendell Square gem has been visited by Obama himself which speaks volumes about the incredible pizzas they sell. They are all about the devil in the details starting from the very crust of their pizza which is rolled out of dough which has been fermented for 30 hours. The bubbly mozzarella that crowns their pizza is obviously hand pulled and the pizzas are baked to perfection in traditional wood fired ovens for a subtle smoky char that completely elevates the flavor profile of the pie. When it comes to toppings they can range from traditional favorites like Margherita to unique flavor combinations such assausage with pickled banana peppers.
Thin Crust Pizzas from Emma's
What can be more satisfying than biting into a crunchy crust of pizza which crumbles into your mouth and eats like a dream! This happening joint on the outskirts of Kendell Square dishes out one of the most incredible thin crust pizza with equally quirky toppings which makes patrons crowd the place like a pack of hungry wolves. Their pizzas are free from the cruelty of any tomato sauce which lets the quality ingredients in their topping shine through. Their unconventional toppings can go from barbequed chunks of chicken to bacon and scallion topped with gorgonzola. And it does not end there; they have an equally delectable spread of vegetarian delights such as spinach and kalamata with a plunk of feta. So if you are lucky enough to get a seat then grab them with both arms or resort to the best pizza delivery Boston to get you a piping hot pizza straight from the kitchens of these pizzerias to your very doorstep in a jiffy.
Latest From the Blog