5 Italian Vegetarian Dishes That You Were Not Aware Of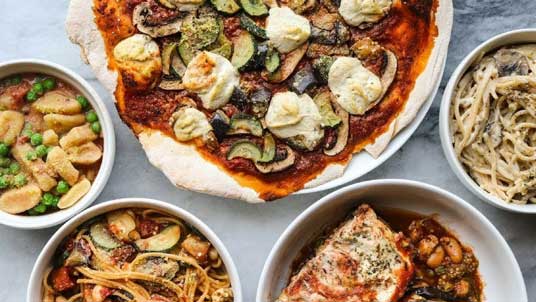 Italian cuisine is all about quality, flavorful and good cooked food. Italians are known to not compromise on the quality aspect and have accepted the vegetarian approach and depend heavily upon native crops for daily meal supply. Apart from Polenta, Pizza and Pasta, there is a readily available wide range of traditional recipes which avoid using of animal protein. The fact is that the average Italian diet is considered to be vegetarian friendly. The vibrant and rich menus of this country also comprise of exciting side dishes and complete meals which are based upon seasonal variety produce and vegetables used for traditional preparations.
The well-established Italian restaurant Boston MA does ensure using of different types of legumes, pulse, grains, organic eggs, olive oil, vegetable sauces, ambrosial condiments, soups and plenty of dairy along with fresh produce at every table.
Few uncommon Italian vegetarian dishes
Pasta alla Norma: This dish is typical of Catania, a city located in Sicily and involves tossing of pasta with diced and fried eggplant, salty ricotta shavings, basil, and tomato sauce. This recipe has been named by Vincenzo Bellini, a native composer after 'Norma' opera. As fresh milk ricotta from ewe goes through natural aging process using some salt rub, it gets flavorful, hard and crumbly cheese, making it suitable to grate or consume. Over pasta is dusted profusely Ricotta salatais dressed with tomato sauce and eggplant.
Pomodori al riso: This is rice cooked in roasted beefsteak tomato. Not much seasonings or ingredients are used. Succulent tomatoes get hollowed, and there are mixed with raw rice, seeds, flesh, pulp along with oregano and basil in plenty, salt and olive oil for stuffing. It is then spooned into tomato shells and kept among potato wedges on shallow tray. It is then baked in oven till it gets flavored and rice becomes tender, plump and moist, while the potatoes gets charred and golden at its edges.
Panzanella: This dish is actually prepared from leftover bread. Broken-up sourdough pieces are flavored and revived with juices of fresh tomatoes, well chopped red onion, sliced cucumber and fresh basil. Also is used white wine vinegar and olive oil in good amount and seasoned with pepper and water. It is indeed the perfect meal for vegetarians and vegans alike.
Tortelli di zucca: Those who love egg dough stuffed pasta and ravioli will just find this dish amazing. Crumbled amaretto biscuits, roasted pumpkin, eggs, cheese and piquant fruit chutney known as mostarda go into filling this delicious tortelli. Tortelloni with spinach and ricotta having assorted fillings such as cheese, mushrooms or artichoke and dressed in brown butter can be excellent alternatives for meat filled tortellini.
Fagioli all'uccelletto: This Tuscan recipe uses borlotti beans that are stewed in rich tomato sauce and spiked using fragrant sage leaves. It is regarded as side dish and best complements two pound Fiorentina steaks. This dish is stated to be full of protein content and can be consumed alone at any of the Boston best Italian restaurants. Their name stands for 'beans little bird style'. It means presence of herbs that was previously used for flavoring wild game by the bygone Tuscan culinary tradition.
Besides this, there are also other exotic Italian dishes that can be found at the top Italian restaurants. Getting to know these uncommon Italian dishes can be a real delight for those who cannot resist good food.
Latest From the Blog